Dispatch Orders & Send SMS Alerts To Customers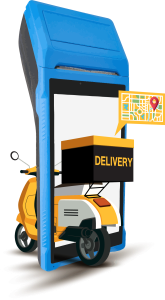 In this tutorial, we'll take a look at how to use our new order dispatch feature, and why you'd want to use it.
Customer care is everything in business. The PrinterCo POS printer helps you to keep track of all the orders that you receive so that you can manage and prioritize them. It also has a dispatching feature where you can slide your finger on a completed order to label it as "Dispatched."
This feature helps staff to see which orders have been dispatched when they scroll through the order list to look for orders to fill. That way they know which ones to focus on.
In addition to this, you'll also notice the countdown timer stops when you label an order as "Dispatched". This allows you to have a quick overview of how your team is performing. Any negative timer tells you how late the order was. Similarly, any positive timer tells you how much time you had left before the order was dispatched.
When you have delays, which is normal during busy times, you are likely to receive complaints from unhappy customers. To help you keep your customers happy, we have added the ability to automatically send a tailored SMS message when orders are labeled as "Dispatched". This helps to keep your customers updated on their orders!
You can use either the collection template or the delivery template, depending on the order.
Both of which are completely customizable in the TOOLS menu of your printer.
Although the built-in SMS updates will help improve your customer experience, this is optional. You can use the dispatch feature without sending any SMS updates if you wish.
Let's Get Started!
STEP 1: After you've logged into your printer, go to your ORDER List.
STEP 2: You'll only have the option to dispatch any accepted orders (colored in green).
STEP 3: Swipe right to mark an order as dispatched.
STEP 4: You'll now receive a message to add SMS credit for your printer – if you
have 0 credit available.
If you don't want to send any SMS alerts to your customers, and only want to mark orders as dispatched, then press "DISPATCH ANYWAY".
To never show this message again, tick the checkbox "Do not show this again"
To continue sending an SMS alert press the "BUY CREDITS" button
STEP 5: After you've added SMS credit to your printer, you'll be able to see at the top right corner how many SMS messages you can send.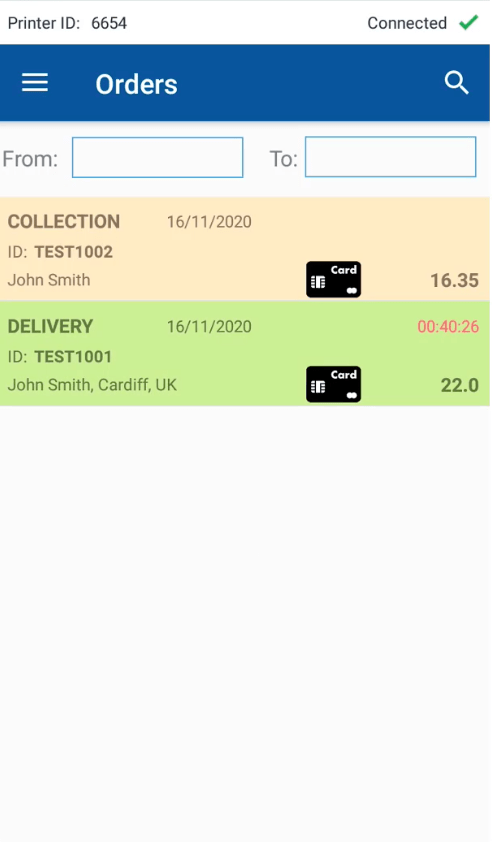 STEP 6: A tailored SMS message can be sent whether the order is COLLECTION or DELIVERY.
To change the SMS message template checkout SMS Order Notifications
STEP 7: When an order is dispatched, you'll notice the countdown timer freezes.
A black (positive) timer shows the order was dispatched on time.
A red (negative) timer shows the order was dispatched late.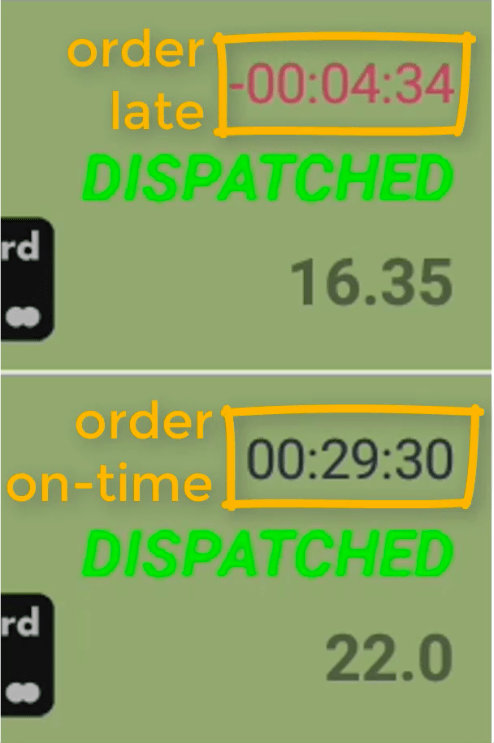 STEP 8: If you've accidentally dispatched the wrong order, swipe left to undo.
Download The Latest App
This feature is available only for android printers at the moment. More specifically, the app builds 5.9 onwards. To see which app build you're currently running, press the ABOUT button from the main dashboard of the PrinterCo app.
To install the latest app build, you'll need to delete the existing installation of the app. After which, you can visit APP Release to install the latest version of the PrinterCo app.
If you have any questions, or issues with your SMS purchase, please email support@printerco.net with your name and the SMS pack you've purchased.