Connect your GloriaFood store to printerco order printer- NO CODING IS REQUIRED! 
In this tutorial, we'll go through the necessary steps to connect your GloriaFood website to the PrinterCo order printer. This will enable you to print orders that have been approved from the Gloriafood app straight to the GloriaFood order printer.
Save time and workspace with our GloriaFood order printer. Accept and print your GloriaFood online orders from a single device. Download the GloriaFood Android app right onto our order printer. Our printer will print online orders while running in the background. This saves you time from having to switch between the GloriaFood app. Additionally, you can set auto-accept for all orders in your Gloriafood admin panel. So all orders will be automatically accepted and sent to our printer to print. In that case, you don't need to run the Gloriafood order-taking app anymore and accept each order manually. It will save you time and you can avoid using 2 apps.
Let's Get Started!
Step1- Login to your MyPanel dashboard
1. Click on the integration tab.
2. Now click on Gloriafood Settings.
3. Now enter your printer Details to generate Endpoint URL.
4. After saving the form our system will generate a unique endpoint URL for your Gloriafood store.
Step 2 – Login to your GloriaFood dashboard
Head over to www.gloriafood.com and log into your dashboard.
You should see a list of your restaurants. If this is not the case, click the Management link under the Restaurants, found in the left-hand menu bar. Then click the green Access button for the restaurant you would like to integrate with PrinterCo.
STEP 1
Step 2 – Enable Custom Integration
From the left menu bar, click Other (the 3 dotted icon)
Click Enabled integrations
Click the Enable custom integration button
GloriaFood POS Printer – Enable custom integration to print receipts
STEP 2
Step 3 – Configure Integration
Copy the integration configuration like the one shown in the screenshot below
Copy the Endpoint URL that you generated earlier and paste it here in the Endpoint URL field.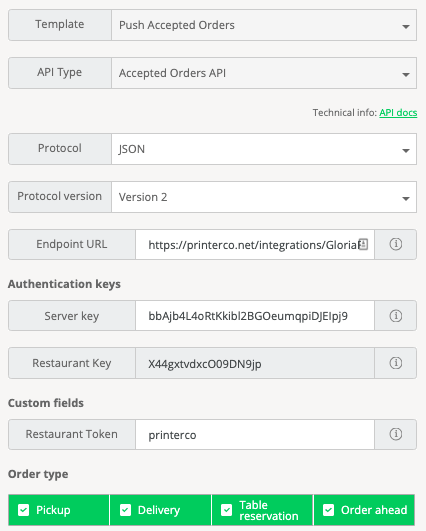 STEP 3
Your Gloriafood Order Printer is now ready!
After you've configured these settings, your GloriaFood website should be ready to print orders to our Gloriafood order printer. Send a test order from your website and check to see if it prints out. If not, then make sure to check the WatchDog to see if you've missed anything.
If you'd like to change the text size and style of the receipt, then make sure you read our
tutorial here. If you need help then feel free to contact our support team. You can email support@printerco.net or reach us via live chat.