How to print a logo on the receipt?
In this tutorial, you'll learn how to customize your receipts to improve your brand awareness. We'll take a boring-looking receipt and add a logo at the top, and give it some life!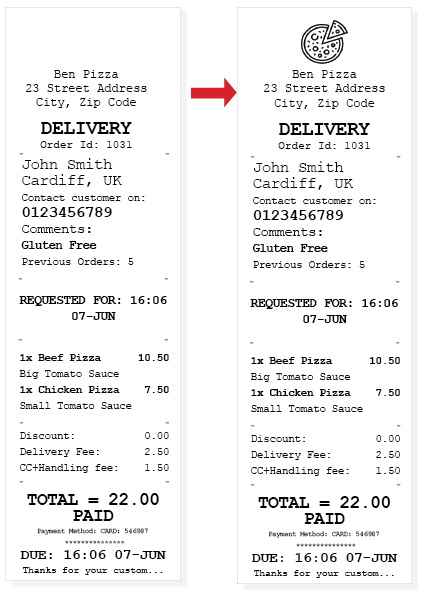 Let's Get Started!
Step 1 – Prepare the logo
You need to resize your logo to have a maximum width of 256 pixels, and a maximum height of 128 pixels. Dimensions higher than these will fail to print.
Open any photo editor application, i.e. Paint for Windows or GIMP for OS X
Create a new canvas 256px by 128 px.
Paste your logo into the canvas.
Save the image in any format, as it will be converted in step 2.
STEP-1
Step 2 – Convert the logo into a monochrome bitmap image
The best tool for this, in our opinion, is www.online-converting.com. Not only will it quickly convert your logo, but it also prevents any distortions.
Upload your logo.
Change the Color: field to 1 (Mono)
Click the Convert file button.
The process will begin shortly, and your new logo will be automatically downloaded within a minute.
STEP-2
Step 3 – Upload the monochrome logo to MyPanel
Login to your MyPanel dashboard.
Navigate to your Printer List and click the edit button for the printer you wish to upload the logo for.
Upload your .bmp logo and click the submit button to save your changes
STEP-3
Step 4 – Sync the Printer app with MyPanel
Now that your bitmap logo has been uploaded to your MyPanel dashboard, your thermal printer will start PRINTING the LOGO. You'll need to sync your printer settings with the settings in your MyPanel dashboard.
From your printer app, navigate to Settings.
Click the sync icon near the top left-hand corner. Once synced, you'll be prompted with a message. This takes only a few seconds to complete.
STEP-4